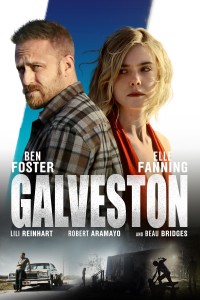 Release:
4 april 2019

Director:
Mélanie Laurent (Inglourious Basterds)


Cast:
Ben Foster (Hell or High Water, The Messenger)
Elle Fanning (Maleficent, Trumbo, The Neon Demon)
Lili Reinhart (Riverdale)
Beau Bridges (Max Payne, Fabulous Baker Boys)


Genre:
Thriller


Year: 2018





A Première TV Distribution Release
SYNOPSIS
Roy is a heavy-drinking criminal enforcer and mob hit man whose boss, Stan, a New Orleans mobster, sets up Roy in a double-cross scheme to have him killed on the very day that Roy receives news that he has lung cancer. Roy anticipates Stan's plan, however, and ends up killing off the hit men before they can complete their job. In the bloody aftermath, Roy discovers Rocky, a teenage prostitute on the scene, who he takes with him, saving her from imminent peril at the hands of Stan and his goons.

Roy and Rocky look to escape pursuit by holing up in Galveston, Texas, a place that Roy knows from his mysterious past. On the way, Rocky convinces Roy to make a stop, and they end up with Rocky's 3-year-old sister, Tiffany, who she retrieves from her stepfather at gunpoint.
Living for a time in a run-down motel occupied by guests of questionable motive, the trio form a bond unlike any Roy and Rocky have experienced before. Roy needs to find a way to close the book on Stan, while at the same time aiming to provide the seeds of a hopeful future for Rocky and Tiffany. But dangers from Roy and Rocky's past are closer than Roy knows, threatening any glimpse of salvation.
REVIEWS
Moviemeter.nl: Hoe simpel het verhaal ook is en vervolgens verloopt, het duo blijft biologeren. Voeg daaraan een mooi gefilmd en spannend slotstuk toe, en een ontroerend einde maakt 't af. Lees de hele review hier.
Rogerebert.com: Some of the darker, more brutal edges of the film hinder it at times as Laurent's poetic visual eye and the stark ugliness of what happens here can feel at odds. But even when the movie struggles with a lead character who is kind of reprehensible, Foster and Fanning hold it together.
TheHollywoodReporter.com: Actor/director Melanie Laurent makes her English-language directing debut with Galveston, a seedy but sincere and strikingly attractive picture.
Boomhowdy.com: For Fanning it's yet another feather in her cap, adding to an already impressive body of work that's sure to extend for decades to come. She slides into the sweet and naive part with minimal effort. One can easily understand why Laurent has made mention that Fanning was her first and only choice for the part. It's Ben Foster though, who cements himself as a consummate actor of note, with his understated, but impactful role.
TheFilmstage.com: Foster and Fanning are predictably great together, cut from the same bayou cloth.
Moveablefest.com: Melanie Laurent's "Galveston" Is So Good It Should Be Criminal. The French writer/director comes out with guns blazin' in her first American film.
Vanyaland.com: But coming in at a brisk 90 minutes, Galveston is a neo-noir model of narrative efficiency anchored by excellent work by two of our finest actors, and a film that will hopefully serve as Laurent's introduction to the world of English-language cinema as something other than an actress.
Birthmoviesdeath.com: The details that make up a great lurid chronicle are here.
Movietalkwithjakesalinas.com: Galveston is a very, very well made crime thriller. It's a simple idea and a simple tale, but it's done so effectively thanks to a great writer-director, and an equally great cast.
Filmschoolrejects.com: Galveston proves the right performers can make any tune dance.
Movieweb.com: A Thrilling Powerhouse That Leaves Its Mark
Austinchronicle.com: Galveston is a deeply touching exploration of the harsh world that shapes its tragic main characters.
Bleedingcool.com: Galveston is tough to watch at times, but with the compelling performances, slow burn pacing, and gut punch ending, it really delivers in the end.
Behindthelensonline.net: oster's Roy Cady is a man of little words and speaks with physicality, be it by physical strength or shoulder lowering humility or shame. Fanning finds the perfect balance of naivete and emotional growth for Rocky. Together it's impossible to take your eyes off them.
DOWNLOADS
You need to be logged in to access this information.
.