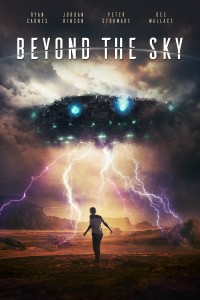 Release:
14 maart 2019

Director:
Fulvio Sestito


Cast:
Ryan Carnes (General Hospital)
Jordan Hinson (A Very Harold & Kumar Christmas )
Claude Duhamel (Traffik)
Martin Sensmeier (The Magnificent Seven, Wind River)
Peter Stormare (Fargo, John Wick Chapter 2)


Year: 2018





A Première TV Distribution Release
SYNOPSIS
Despite his doubts, Chris decides to help a woman, who claims to be an alien abductee, discover the truth and prove that we are not alone.
REVIEWS
LATimes.com: Appealingly twisty and easy to watch. Well-constructed action sequences and impressive special effects.
Irishfilmcritic.com: Intriguing Science Fiction, combined with remarkable visuals and authentic performances. We are rewarded for our patience in the movie's impressive finale.
Worldfilmgeek.com: Meshes some found footage and the narrative structure well.
Starburstmagazine.com: Efficient and well-made, 7/10.
Pophorror.com: A fun take on the alien abduction subgenre, and it's refreshing with its humor and quirky cast of characters. After watching this movie, I want to believe.
Marcfusion.com: The finale is a spectacle with some terrific special effects, but the characters remained the real draw.
Lovehorror.co.uk: A noteworthy and classy addition. The production value here is imaginative and vibrant and gives us a third act that confidentially owns the notion of going into a spaceship.
Blu-ray.com: A satisfying evening's viewing and, accordingly, recommended.
DOWNLOADS
You need to be logged in to access this information.
.