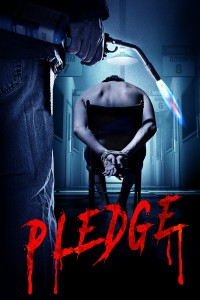 Release:
21 april 2019

Director:
Daniel Robbins


Year: 2018





A Première TV Distribution Release
SYNOPSIS
Three nerdy college freshmen, Ethan, David, and Justin, are having a tough time adjusting to college life. Rejected and ridiculed by just about every fraternity on campus, they are prepared to give up all hope. That is, until a beautiful girl invites them off campus to a party at a secluded mansion.

They are not only invited in, but are treated like princes by the resident brothers. The party is everything they dreamed college would be—beautiful women, drinking, and most importantly, a cool group of guys willing to accept them as one of their own.

When the freshmen are presented with an opportunity to pledge the elite social club, they accept without hesitation. However, as the gruesome, dehumanizing hazing progresses, a more sinister picture of the club emerges.
REVIEWS
Moviemeter.nl: Er wordt degelijk gefilmd, goed geregisseerd en de schare gore weet prima te werken. Hele review hier.
De Nachtvlinders: Mijn mening over ontgroeningen en studentenverenigingen zal ik hier niet poneren, maar misschien zegt het genoeg dat ik de tweede helft van de film met een grote grijns op mijn gezicht heb zitten kijken. Pledge is een bescheiden, maar zeer vermakelijke thriller. Hele review hier.
Imagine Film Festival: Alles werkt binnen de eenvoudige opzet van deze film. De opbouw, de personages, de horror en de ontknoping – het is allemaal heel goed gedaan. Meer info hier.
Bloody-disgusting.com: For those that like their thrillers fast and warped, Pledge is an entertaining take on a familiar story. Partying, torture, death, and dark humor makes for a fun and sometimes gruesome watch.
Ukfilmreview.co.uk: Phenomenally well balanced and containing outstanding performances across the board, this is incredible horror/thriller filmmaking.
Thehollywoodnews.com: Pledge offers a fresh spin on the horrors of pledge life through this new genre angle. This film is a bloody and brutal burst of masculinity that packs a punch.
Cinemaslasher.com: Pledge is paced perfectly, with many of the sequences unfolding in real time, which adds a suspenseful urgency to the film.
Culturecrypt.com: a clear-cut slash of traditional thrills biting off only what it can chew with entertainingly sharp teeth.
Nightmarishconjurings.com: A brilliantly crafted thriller.
Haddonfieldhorror.com: Equal parts intoxicating and nauseating.
Pophorror.com: Utterly insane and one hell of a ride.
Thatmomentin.com: A grueling and brutal rollercoaster ride.
Adamthemoviegod.com: A masterclass of gritty independent cinema, sure to go down as one of the best independent films of 2018.
Dailygrindhouse.com: The film is gorgeously shot, a nasty piece of work to show off to your friends so that you can watch them cringe, and with the tight runtime, you just go in, get your hands and soul messy, and get out. A cutthroat, grueling experience.
Dreadcentral.com: With the insane incidents that happen to the guys in this film, I feared if the overall concept of this movie had ever been done for an actual pledge.
Filmthreat.com: Watching Pledge, I almost felt like I had found the loophole in the system and discovered that it doesn't take a big budget or a recognizable IP to sell a ticket. I was wholly entertained from the start to the finish.
Eyeforfilm.co.uk: a solid little horror movie with plentiful unpleasantness.Filmpulse.net: A solidly crafted thriller.
Modernhorrors.com: A Mean and Disgusting Home Run of a Horror Film. Don't miss this one.
Nightmarishconjurings.com: A fantastic thriller that kept me entertained and on edge throughout its entire duration, and even surprised me at the end.
Slashfilm.com: Pledge stakes its genre claim on fruitless anger, merciless abuse and satirical wit concerning what we're willing to do for popularity.
DOWNLOADS
You need to be logged in to access this information.
.