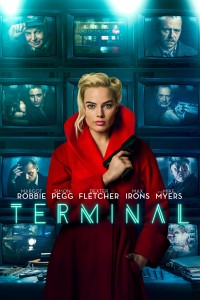 Release:
2 mei 2019

Director:
Vaughn Stein


Cast:
Margot Robbie (Suicide Squad, I Tonya)
Simon Pegg (Star Wars Saga, Star Trek, Ready Player One, Hot Fuzz)
Dexter Fletcher (Kick-Ass)
Mike Myers (Bohemian Rhapsody, Austin Powers)
Max Irons (The Wife, Condor)


Year: 2018





A Première TV Distribution Release
Collectie: 28 van 30
SYNOPSIS
In the dark heart of a sprawling, anonymous city, TERMINAL follows the twisting tales of two assassins carrying out a sinister mission, a teacher battling a fatal illness, an enigmatic janitor, and a curious waitress leading a dangerous double life. Murderous consequences unravel in the dead of night as their lives all intertwine at the hands of a mysterious criminal mastermind hell-bent on revenge.
REVIEWS
In.ign.com: Margot Robbie's found her niche in intelligent, yet manic characters who delight in their homicidal tendencies. Cold and calculating, this role trumps her comic book criminal thanks to a grounded performance and justifiable reasoning for the madness.
Theplaylist.net: It's beautiful, if not brilliant, and fun to watch.
LAtimes.com: Robbie is fascinating to watch.
Eyeforfilm.co.uk: There's also Margot Robbie, whose film this is. Not just because she's got a producer credit, but because top and tail, ear to toe, she makes it. She's all the best things in the film, her ability to pivot (both figuratively and literally) made good use of in hauteur and heels, in pose and proposal, in all the ways so tragically underused by Suicide Squad.
Doblu.com: A dazzling swirl of color and light play, saturating this noir with superior abstract visuals.
Flickeringmyth.com: You can *never* go wrong with an unhinged Margot Robbie. Fitfully entertaining thanks largely to a scene-stealing, against-type performance from Simon Pegg.
Joblo.com: Quite fun to watch Robbie and Myers mug around in this type of movie.
UKFilmReview.co.uk: Their chemistry is odd and welcome, and Pegg's delivery is particularly impeccable.
DOWNLOADS
You need to be logged in to access this information.
.