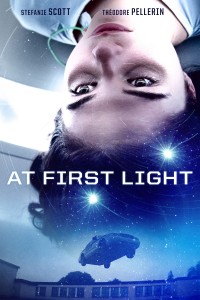 Release:
6 juni 2019

Director:
Jason Stone


Cast:
Stefanie Scott (Beautiful Boy, Insidious 3 & 4)
Theodore Pellerin (Boy Erased)
Saïd Taghmaoui (Wonder Woman, The Infiltrator)


Year: 2018





A Première TV Distribution Release
SYNOPSIS
Alex is floating unconscious in a lake when light from a UFO of light saves her by enhancing her abilities such as telekinesis and healing power. Her friend Sean helps her. The authorities want her - not just for stealing a police car.
REVIEWS
Theglobeandmail.com: The rare example of an understated, effectively told young-adult yarn that places emphasis on grounded characters, nuanced performances and stunning visuals over convolution and clichés, Canadian filmmaker Jason Stone's At First Light boasts unpretentious but exciting surface-level charms.
Latimes.com: Stone doesn't explicitly ask the straightforward, big-picture questions you'll find in a film like "Arrival." But his attention to detail and character, and his ability to render those people in recognizable settings, is engrossing.
RogerEbert.com: A lean, fantastical narrative, as captured with a slick look that is commendably achieved.
Eyeforfilm.co.uk: A strong design, a sensitive script and good performances elevate it far above most of its peers. It has a strong emotional resonance that will appeal to teen viewers who have an appetite for something more thoughtful than most Hollywood offerings.
Movie-freak.be: For the diehard SF enthusiasts, this film is highly recommended.
Screen-Space: Feels gritty, human and real, despite its otherworldly premise. First Light builds to a soaring denouement (pumped by some demographic-appropriate musical accompaniment from M83's Outro) that reassures the audience that, in this world or beyond, we are not alone.
Slashfilm.com: First Light nimbly condenses similar, more complicated stories for a greater storytelling accomplishment. Stone succeeds as others have previously faltered.
DOWNLOADS
You need to be logged in to access this information.
.