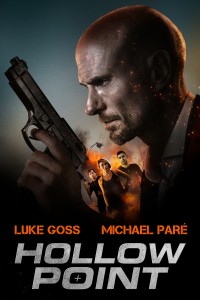 Release:
13 juni 2019

Director:
Daniel Zirilli


Cast:
Luke Goss (Hellboy II, Blade II, Death Race II, Blood Out)
Bill Duke (Predator, Mandy, X-Men The Last Stand)
Michael Paré (The Philadelphia Experiment, The Lincoln Lawyer, The Virgin Suicides)
JuJu Chan (Crouching Tiger, Hidden Dragon: Sword of Destiny)


Genre:
Action


Year: 2019





A Première TV Distribution Release
SYNOPSIS
Hank Cormac is a lawyer and vigilante who leads a team of crime fighters that wage a war against the criminals who infest their city. When college professor Nolan Cooray's wife and daughter are killed in the crossfire of a gang dispute and the system fails to bring justice, Nolan joins Hank and his crew for payback.
REVIEWS
Dansmoviereport.blogspot.com: Overall I give the film a 7 out of 10. Hollow Point is pretty good.
DOWNLOADS
You need to be logged in to access this information.
.