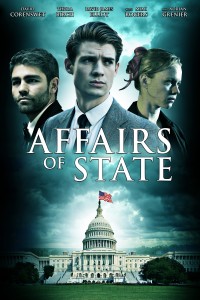 Release:
15 augustus 2019

Director:
Eric Bross


Cast:
David Corenswet (The Politician)
Thora Birch (American Beauty, The Competition)
Adrian Grenier (Entourage, The Devil Wears Prada, Marauders)
Mimi Rogers (Austin Powers, Dumb and Dumberer)


Genre:
Thriller


Year: 2018





A Première TV Distribution Release
SYNOPSIS
Inspired by a conservative senator who quits the GOP to run for president as an independent, Michael Lawson - an idealistic Washington intern - signs up. But he gets out of his depth and caught in Washington intrigue when he sleeps with the candidate's wife — only to end up bleeding out by the side of the road.
REVIEWS
LATimes.com: An engaging hybrid of "The Graduate" and "House of Cards", the political potboiler "Affairs of State" benefits greatly from being both timely and, for this day and age, uncommon. Refreshingly smart about how real feelings can get in the way of callous calculation.
Nycmovieguru.com: a gripping political thriller that becomes increasingly dark and refreshingly unpredictable.
Doblu.com: Director Eric Bross has fashioned a campy, ripped-from-the-headlines thriller built around the supposed sexual exploits going on in D.C.
Filmintuition.com: An ambitious feature.
DOWNLOADS
You need to be logged in to access this information.
.