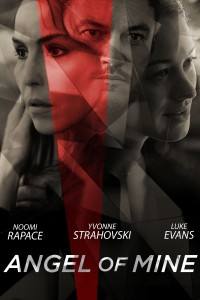 Release:
12 september 2019

Director:
Kim Farrant


Cast:
Luke Evans (Fast & Furious 6-8, Ma, Midway)
Yvonne Strahovski (Dexter, Killer Elite, The Handmaid's Tale)
Noomi Rapace (Millennium 1-3, Prometheus, Bright)


Genre:
Thriller


Year: 2019





A Première TV Distribution Release
SYNOPSIS
Based on the French film, L'Empreinte D'Lange by Safy Nebbou, years after losing her daughter in a devastating fire, a mother, still struggling to cope with the loss, becomes convinced that a stranger's daughter is in fact her own. As her obsession grows, she becomes more and more entwined in this young girl's life, causing her to lose touch with reality.
REVIEWS
RogerEbert.com: Farrant's confidence as a storyteller — along with Rapace's full-bodied performance - enrich the story and guide it toward its delicately bonkers premise.
FilmThreat.com: Angel of Mine is a good movie for fans of the dysfunctional family melodrama. Primarily from the performances from its leads and a strong story that holds together to the end.
Observer.com: The understated direction by Kim Farrant lead you into elements of surprise you do not anticipate as the film detours into a shock ending that will leave you wide-eyed with awe.
Screen International: Its equally challenging and cathartic payoff is worth the journey.
Los Angeles Times: A terrific cast and a rich sense of atmosphere.
DOWNLOADS
You need to be logged in to access this information.
.