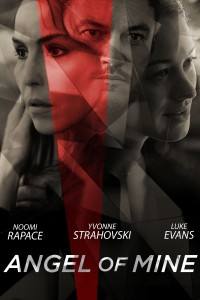 Release:
12 september 2019

Regie:
Kim Farrant


Cast:
Luke Evans (Fast & Furious 6-8, Ma, Midway)
Yvonne Strahovski (Dexter, Killer Elite, The Handmaid's Tale)
Noomi Rapace (Millennium 1-3, Prometheus, Bright)


Genre:
Thriller


Jaar: 2019





A Première TV Distribution Release
SYNOPSIS
Lizzie worstelt niet alleen met mentale problemen, ze levert ook een bikkelharde strijd om de voogdij over haar zoontje. Alles verdwijnt echter naar het achterplan wanneer ze in de 7-jarige Lola haar overleden dochtertje meent te herkennen. Haar obsessie met het meisje ontaardt in een bloedstollende confrontatie met Lola's echte moeder.
REVIEWS
RogerEbert.com: Farrant's confidence as a storyteller — along with Rapace's full-bodied performance - enrich the story and guide it toward its delicately bonkers premise.
FilmThreat.com: Angel of Mine is a good movie for fans of the dysfunctional family melodrama. Primarily from the performances from its leads and a strong story that holds together to the end.
Observer.com: The understated direction by Kim Farrant lead you into elements of surprise you do not anticipate as the film detours into a shock ending that will leave you wide-eyed with awe.
Screen International: Its equally challenging and cathartic payoff is worth the journey.
Los Angeles Times: A terrific cast and a rich sense of atmosphere.
DOWNLOADS
Je moet ingelogd zijn om deze informatie te bekijken.
.