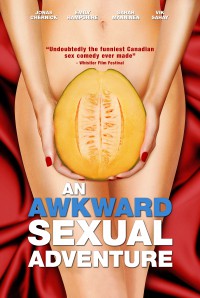 Release:
11 juni 2013

Director:
Sean Garrity


Cast:
Jonas Chernick (The Border, Degrassi, An Awkward Sexual Adventure)
Vik Sahay (American Reunion)
Emily Hampshire (Schitt's Creek, Mother!)
Sarah Manninen (The Prince & Me)


Genre:
Comedy


Year: 2012





A Première TV Distribution Release
An Awkward Sexual Adventure
SYNOPSIS
When uptight accountant Jordan Abrams proposes marriage to his life-long soul mate Rachel, she finally reveals the painful truth: he's terrible in bed. Frustrated and deeply unsatisfied, Rachel dumps him, and Jordan embarks on a desperate mission to seek some much-needed sexual experience and acquire some basic requisite skills. Committed to doing whatever it takes to win Rachel back, Jordan enlists the guidance of Julia - a sexually liberated but emotionally guarded exotic dancer – who leads him into an unfamiliar world of strip clubs, sensual massage parlors, cross-dressing and S & M. My Awkward Sexual Adventure is a fun, sexy and ultimately charming comedy.
REVIEWS
Tiff.net: sharply directed ... a very funny script ... exceptional cast. And, perhaps unusually for a sex comedy, it's surprisingly educational...
Variety.com: briskly paced farce does offer a winning performance by Emily Hampshire
Thetfs.ca: It's funny (at least one scene made me laugh until I cried), sweet, relatable and it feels like a Hollywood romantic comedy. The chemistry between Chernick and Hampshire makes for an extremely watchable comedy.
Thematinee.ca: This movie is really funny ... well-concieved and well-executed.
Screendaily.com: Chernick isn't shy about exploring Jordan's endless humiliations and his sexual unattractiveness. Yet he brings complexity and some fresh laughs to nerd-dom with his accountant's-eye-view of life and love.
Filmslatemagazine.com: uses humor as an instrument for insight ... brought to life thanks to Hampshire and Chernick's offbeat and highly watchable chemistry. Must-sees at the festival.
Whistler Film Festival: undoubtfully the funniest Canadian sex comedy ever made.
TheStar.com: Filmmaking sparks and a combustible cast set this rom-com blazing. Packed with randy cheer, not at all afraid to push that 18A Ontario film rating to the limit, Chernick and Hampshire make a grand pair.
AWARDS
Calgary International Film Festival 2012: People's Choice Award
Whistler Film Festival 2012: Audience Award
DOWNLOADS
You need to be logged in to access this information.
.