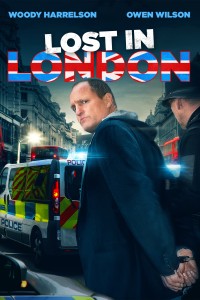 Release:
14 november 2019

Director:
Woody Harrelson


Cast:
Woody Harrelson (Venom, Midway)
Owen Wilson (Wedding Crashers, Zoolander, Night at the Museum - Secret of the Tomb)


Genre:
Comedy


Year: 2017





A Première TV Distribution Release
SYNOPSIS
The hilarious LOST IN LONDON is a first-of-its-kind film event which was filmed and screened live simultaneously in select cinemas around the world.The film is loosely based on Woody Harrelson's tabloid-worthy and crazy London night-out resulting in him getting in trouble with the law.Directed and starring Woody Harrelson alongside cameos from Owen Wilson, Willie Nelson and Daniel Radcliffe, LOST IN LONDON is a crazy trip in the streets of London that will make you gasp and laugh in equal measures.
REVIEWS
Radiotimes.com: Harrelson pitifully sings the Cheers theme tune to bouncers and, in one of the film's highlights, exchanges insults with Owen Wilson. That kind of desperate, petty humour is the real lifeblood of this misadventure, bringing to mind such directors as Woody Allen.
Filminquiry.com: A strong contender for funniest film of the year, yet so much more than just a comedy, Lost in London is the rare film to live up to its lofty ambitions.
TheGuardian.com: Shot in a single take and broadcast live to 500 cinemas, Harrelson's directorial debut is a unique work that fuses technical wizardry with self-deprecating satire. Harrelson is an affectionate director, finding memorable bits for performers all across the cast list, and his writing is peppered with arresting phrases
DMovies.org: Rest assured, Lost in London is like nothing else you've seen before.DVD-
Fever.co.uk: I definitely recommend you check this out, not only for the concept, but also for a decent evening's entertainment led by a consummate professional, who's not onlystarring in it, but also wrote, co-produced and directed it.
DOWNLOADS
You need to be logged in to access this information.
.