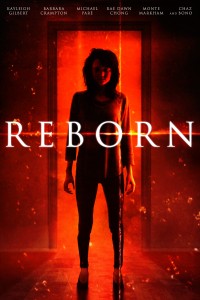 Release:
10 oktober 2019

Director:
Julian Richards


Cast:
Barbara Crampton (You're Next, Re-Animator)
Michael Paré (The Philadelphia Experiment, The Lincoln Lawyer, The Virgin Suicides)
Kayleigh Gilbert
Monte Markham
Chaz Bono (American Horror Story)


Genre:
Horror


Year: 2018





A Première TV Distribution Release
SYNOPSIS
A stillborn baby girl brought back to life by an electrical storm before being abducted from hospital by a morgue attendant. On her sixteenth birthday, empowered with the gift to manipulate electricity, she escapes her captor and sets out to find her birth mother leaving a trail of destruction behind her.
REVIEWS
BFI.org.uk: a sophisticated dramatisation of an actress's internalised 'method' of processing personal trauma into performance.
Joblo.com: Kayleigh Gilbert, who did a terrific job in the role of Tess, her performance complimented by the fact that she has a great look for the part. 7/10.
28dayslateranalysis.com: Full of interesting scenes and outlandish deaths, Reborn is a horror thriller for those seeking out something a bit refreshing.
Eyeforfilm.co.uk: We get a playfully formulaic story involving protectiveness, revenge, spectacular deaths (some of which feel richly deserved) and investigation.
Horrorhothousereview.wordpress.com: Crampton makes a fair fist of the older woman film star determined to fight her way back while still saddled with an overarching sense of loss while Gilbert appears superbly deranged as the girl determined to sort things out for her new-found mom. All in it's an effective chiller with at least two killer jump out of your seat moments.
Moviesinfocus.com: A fun flick with a game cast.
AWARDS
Best Director - Fantasporto (Portugal)
Best Director - Roswell Film Festival (USA)
Best Sci-Fi Feature - Another Hole In The Head (USA)
Best Horror Feature - Mad Monster Party (USA)
Best Horror Feature - Horror Hotel (USA)
DOWNLOADS
You need to be logged in to access this information.
.