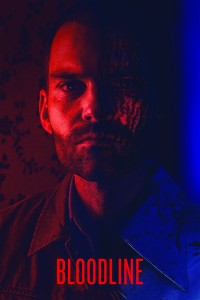 Release:
7 november 2019

Director:
Henry Jacobson


Cast:
Seann William Scott (American Pie, Lethal Weapon)
Dale Dickey (Hell or High Water, Winter's Bone)
Mariela Garriga
Kevin Carroll (Blindspotting)


Genre:
Horror


Year: 2018





A Première TV Distribution Release
SYNOPSIS
From the producers of Get Out, Split & Insidious.
Evan (Seann William Scott) values family above all else, and anyone who gets between him, his wife, and newborn son learns that the hard way. But when it comes to violent tendencies, it seems the apple doesn't fall far from the tree.
REVIEWS
Bloody-disgusting.com: Bloodline is a unique and bloody twist the family man trope, one that implies that the devotion with which we remain loyal to our kin may breed a monster where there was once only good intentions. A Blood-soaked Homage to De Palma.
Destroythebrain.com: Violent - borderline "gornographic" - and unapologetic. Seann William Scott delivers an ice-cold chilling performance. Great cinematography and precise direction.
Popaxiom.com: A very enjoyable midnight movie. If you are a fan of retro horror, this is one you won't want to miss because it is a ton of campy fun.
Itsjustmovies.com: a fun-loving flick from Blumhouse.
Collider.com: Seann William Scott nails the dead-eyed determination of a shark swimming among his prey, which can make him hard root for — especially when his moral compass starts to skew.
Nofspodcast.com: If it possible to be both a serial slasher and a family man? Bloodline from Blumhouse Productions and director Henry Jacobson sure think so. The film seeks to subvert your expectations of standard slasher fare, to obliterate your comfort zones, and to help you shed your assumptions – starting with the casting. Bloodline's lead role belongs to Seann William Scott (American Pie), exploring one of the darkest, most disturbed characters he's ever portrayed. Bloodline is gory because it is confronting. The assaults are visceral. They're jarring. And frankly – pretty medically accurate.
DOWNLOADS
You need to be logged in to access this information.
.