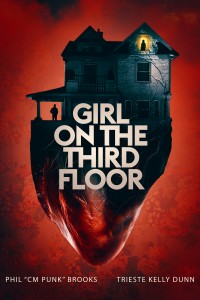 Release:
12 december 2019

Director:
Travis Stevens


Cast:
C.M. Punk (WWF Smackdown)
Sarah Brooks
Trieste Kelly Dunn (United 93)


Genre:
Horror


Year: 2019





A Première TV Distribution Release
SYNOPSIS
Bursting pipes, rotting walls, and unidentifiable slime were not what Don Koch expected when he convinced his wife Liz that he could rehab their new Victorian home himself. In over his head, under duress, and tempted by his old weaknesses, Don soon discovers that the house has its own dark, sordid history and won't be so easy to renovate after all...
REVIEWS
Variety: The vengeful spirits in a former bordello prey on the home's new tenants in Travis Stevens' enjoyable horror opus.
RogerEbert.com: A unique vision that satisfies from beginning to gory end.
Film School Rejects: An effectively unsettling horror film about pains caused by monsters who are far too real.
Daily Dead: truly unique and wickedly weird take on haunted house tropes.
Nighmare On Film Street: A chilling, blood drenched haunted house flick.
The Verge: A skin-crawling horror movie about home improvement and hauntings.
Nightmarish Conjurings: Viewers get an ending that they most certainly did not see coming.
DOWNLOADS
You need to be logged in to access this information.
.