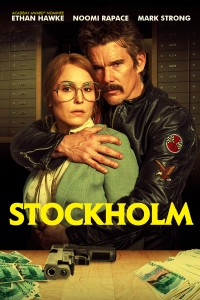 Release:
12 december 2019

Director:
Robert Budreau


Cast:
Ethan Hawke (24 Hours to Live, Traing Day, First Reformed)
Noomi Rapace (Millennium 1-3, Prometheus, Bright)
Mark Strong (Kingsman I & II, Grimsby, Zero Dark Thirty)


Year: 2018





A Première TV Distribution Release
SYNOPSIS
Lars Nystrom dons a disguise to raid a central Stockholm bank. He then takes hostages in order to spring his pal Gunnar from prison. One of the hostages includes Bianca, a wife and mother of two, who develops a strong bond with Lars as she witnesses his caring nature. This connection gave rise to the psychological phenomenon known as "Stockholm syndrome".
REVIEWS
Hollywoodreporter.com: His Stockholm, which gently massages actual events to serve as a fine vehicle for Noomi Rapace and Ethan Hawke, is far from the first movie to believably show a crime victim coming to sympathize with a criminal. But it's a funny and agile one, and should work well for art house auds. A tense and sometimes funny exploration of a famous crime.
Slashfilm.com: Ethan Hawke Steals the Show in a a suspenseful, riotous black comedy interlaced with moments of heartfelt emotion. 8/10.
JBSpins: It is a tight, energetic period thriller, helmed with a fair amount of flair by Budreau. Highly recommended.
Solzyatthemovies.com: Led by marvelous performances from Ethan Hawke and Noomi Rapace, Stockholm is a worthy addition to writer-director Robert Budreau's resume.
Moveablefest.com: Budreau crafts "Stockholm" with a reserve and sense of careful composition indicative of the civil veneer that the outlaw so ruthlessly pierces, but the sly fun it has is in line with a film that rewards patience, and although it's an open question whether that approach will pay off for its central antiheroes, it does so in spades for audiences.
Filmthreat.com: Stockholm is a strong case that you can do a lot with the tried-and-true trappings of a genre. Budreau has proved that with his propulsive and engaging film.
DOWNLOADS
You need to be logged in to access this information.
.