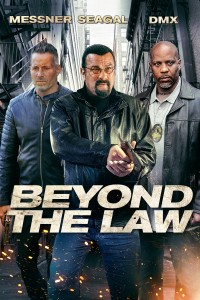 Release:
4 juni 2020

Regie:
James Cullen Bressack


Cast:
Steven Seagal (Under Siege, A Dangerous Man, Executive Decision)
Johnny Messner (Tears of the Sun, Hostage, Running Scared)
DMX (Cradle 2 the Grave, Exit Wounds)


Jaar: 2019





A Première TV Distribution Release
SYNOPSIS
Wanneer de zoon van een ex-agent met een kwalijke reputatie vermoord wordt door de zoon van een meedogenloze misdaadbaas (Steven Seagal), ontbrandt er een nietsontziende strijd tussen twee vaders die tot het uiterste gaan om hun familie te wreken of beschermen. Hoewel ze aan weerszijden van de wet staan, blijkt de grens daartussen vager dan ooit.
In deze bikkelharde actieprent over wraak, familiebanden en buiten de lijntjes kleuren, maakt ook rapper DMX (Cradle 2 the Grave, Exit Wounds) zijn opwachting als een detective die niet helemaal zuiver op de graat is. 
REVIEWS
TheActionElite.com: Beyond the Law is one of Seagal's better films of late even if he doesn't do all that much; this is Johnny Messner's show and he gets to be broody and badass while he's out for revenge.
Actionreladed.com: Overall its a solid action thriller featuring a cool cast line up. The story keeps you hooked and has some twists too it.
Carlosdev.wordpress.com: Seagal still has plenty of presence.
Monsterhuntermoviereviews.com: Such a clear-eyed approach to the pitfalls of a life of crime could only be dispensed by that braggadocios behemoth, Steven Seagal.
DOWNLOADS
Je moet ingelogd zijn om deze informatie te bekijken.
.