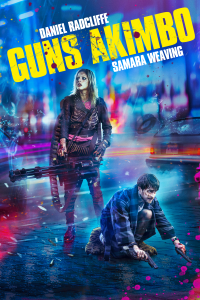 Release:
3 september 2020

Director:
Jason Lei Howden


Cast:
Daniel Radcliffe (Harry Potter, Now You See Me 2)
Samara Weaving (Three Billboards Outside Ebbing, Missouri , Home and Away, Bad Girl)
Rhys Darby (Yes Man, Jumanji I and II)
Ned Dennehy (Peaky Blinders)


Genre:
Action


Year: 2019





A Première TV Distribution & Source 1 Media Release
SYNOPSIS
Videogame developer Miles (Daniel Radcliffe) is a little too fond of stirring things up on the internet with his caustic, prodding, and antagonistic comments. One night, he makes the mistake of drunkenly dropping an inflammatory barb on a broadcast of Skizm, an illegal death-match fight club streamed live to the public. In response, Riktor (Ned Dennehy), the maniacal mastermind behind the channel, decides to force Miles' hand (or hands, as it were) and have him join the "fun." Miles wakes to find heavy pistols bolted into his bones, and learns Nix (Samara Weaving), the trigger-happy star of Skizm, is his first opponent. She's at his front door.Gleefully echoing elements of Edgar Wright's Scott Pilgrim vs. the World, the Purge franchise, and videogames like Smash TV and Mortal Kombat, Guns Akimbo is hilariously dark, viciously violent, and chillingly prescient. Howden foretells of a future that may soon await us: drone-captured live feeds, UFC-like competitions pushed to an extreme and online streaming platforms used for gladiatorial entertainment all around the world. As Miles navigates the underworld of Skizm, the stakes — and the ratings — have never been higher.
REVIEWS
NWTV.nl: Guns Akimbo is gewoon bizar en dat is oké.
Defilmrecensent.nl: Fout en over-the-top op alle beste manieren!
Mannen Magazine: Wat. Een. Film.
Srsck.com: Guns Akimbo IS wild!
Veronica Magazine: Het moge duidelijk zijn dat dit een knettergestoorde film is, die genoeg maffe lol en in-your-face-actie te bieden heeft om anderhalf uur amusant te blijven.
Cinemagazine.nl: voor je wekelijkse portie opgewekt lomp vermaak kun je prima terecht bij Guns Akimbo.
Volkskrant: De actie wordt spectaculair en dynamisch in beeld gebracht.
Pim-is-watching.com: What the actual fuck... Wat een briljante film!! Ik voorspel een cultstatus. Kaliber Boondock saints. Bril-jant!! Ik ben een fan. De art, de bullshit, de actie. Waanzinnig. Hier heb je een absolute topper mee gekocht. P. de Waard.
RogerEbert.com: Guns Akimbo for all its outlandishness, is a spectacularly fun and exciting time whenever the needle drops and Weaving owns her badass, gun-wielding image.
Butwhythopodcast.com: Overall, Guns Akimbo is a world of fun mayhem without too much substance but near-perfect character performances and so much stylistic violence. The film also continues to solidify Weaving's status as a genre queen, which is not to be understated.
ign.com: This is balls-to-the-wall action, with Guns Akimbo delivering thrills, spills and genuinely spectacular kills.
Gmbacklot.com: Guns Akimbo is a wild ride that will keep you on the edge of your seat enjoying the carnage in a way few films have yet to manage.
Crookedmarquee.com: Guns Akimbo is evidence of filmmakers who not only know how to make good movies; they also wear all of their insane, colorful, and playfully nasty influences right on their sleeves — and in this case that's just a whole lot of fun to watch.
Dailygrindhouse.com: This film is a monster. There's a feral punk energy to it, and Howden directs the hell out of his action scenes. Everything is lit up in blue and red giallo-police-light colors, and the camera loops and swirls around bodies being rent through with bullets, all as a series of 1980s pop covers underline everything. It all threatens to become a little too fatiguing. But Howden knows how to keep a steady hand on everything. GUNS AKIMBO is discordant, cranked-up nuttiness, but it's never less anything but fun.
Joblo.com: a funny little genre mashup, and has enough gore and shoot-em-ups to please genre fans.
ModernHorrors.com: Guns Akimbo is an adrenaline-drenched ballet of bullets, bathed in colors that would make Dario Argento proud. It may not land with everyone, but the right audience will go wild for its caffeinated cartoon-colored John Woo stylings.
DOWNLOADS
You need to be logged in to access this information.
.