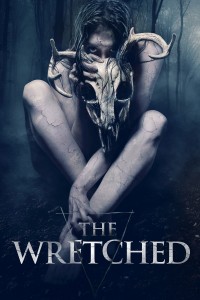 Release:
22 oktober 2020

Director:
Brett Pierce


Cast:
John-Paul Howard (Hell or High Water)
Piper Curda
Jamison Jones (General Hospital)
Azie Tesfai (Supergirl)


Genre:
Horror


Year: 2019





A Première TV Distribution Release
SYNOPSIS
A defiant teenage boy, struggling with his parent's imminent divorce, faces off with athousand year-old witch, who is living beneath the skin of and posing as the woman nextdoor.
REVIEWS
Denachtvlinders.nl: een lekker vermakelijke horrorfilm.
Filmliefhebber.com: een horrorfilm die vooral uitblinkt in spannende en angstaanjagende fragmenten.
SchokkendNieuws.com: een geslaagde verrassing.
Telegraaf.nl: vlot wegkijkend horrorwerkje.
Movieaddicts.nl: Ik heb nog geen betere horrorfilm in de bioscoop gezien dit jaar.
Variety.com: The film successfully mixes together a lot of things, from the waterfront tourist-town setting of "Jaws" to a general teen fantasy-adventure feel that tempers (without weakening) horror content variably redolent of "It, ""Fright Night" and myriad other predecessors. If originality isn't a strong suit here, the film's conviction and polish make that a minor sin.
28dayslateranalysis.com: Not to be missed, The Wretched provides lots of chills and a great story to entertain film fans. 8/10.
Bloody-disgusting.com: Gruesome makeup effects presents a creepy, monstrous take on a classic witch. One that's deeply submersed in nature and folkloric origins. The Pierce brothers have delivered a new dark fairy tale that the midnight crowds will enjoy.
Culturecrypt.com: "Evil Dead" energy keeps poking into every corner it can. Excellent effects and exceptional sound design make certain that energy burns hot. The Wretched delivers a viciously visceral experience by pounding out grotesque gurgles to go with sick sights like diseased animal guts falling onto the floor.
Dreadcentral.com: Truly unique supernatural concepts and effective scares. The Pierce duo has injected awesome new ideas into the underexplored witchcraft subgenre.

LATimes.com: Equally indebted to Alfred Hitchcock, Steven Spielberg and a mishmash of '80s horror films only the directors themselves could comprehensively name-check, "The Wretched" is a fresh horror film built out of familiar parts.
DOWNLOADS
You need to be logged in to access this information.
.