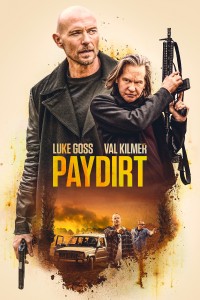 Release:
3 september 2020

Director:
Christian Sesma


Cast:
Luke Goss (Hellboy II, Blade II, Death Race II, Blood Out)
Val Kilmer (Top Gun, Top Gun Maverick, Jay and Silent Bob Reboot)
Mike Hatton (Green Book)
Paul Sloan (Vigilante Diaries)


Year: 2020





A Première TV Distribution Release
SYNOPSIS
A parolee (Luke Goss) teams up with his old crew determined to find a buried bag of cash stolen a decade ago from a DEA bust gone bad, while being tracked by a retired Sheriff (Val Kilmer).
REVIEWS
Actionreloaded.com: Paydirt is a fun movie which, as I'm writing i have watched twice already.
Crpwrites.com: Paydirt looks good and is an easy movie made for a half-night's worth of entertainment.
Moviesinfocus.com: A fun night at the movies, Paydirt is an entertaining diversion with a game cast. Christian Sesma's movie features solid acting, a sparkling script along side snappy score and visuals.
Worlsfimgeek.com: Paydirt is quite a wild ride with Luke Goss on the verge of retirement with Val Kilmer on the verge of redemption, no matter what it could cost both of them. If you get confused a bit with the twists and turns, wait until the last few minutes where everything is explained. Then, you'll see why this is a fun and wild ride of a movie.
DOWNLOADS
You need to be logged in to access this information.
.