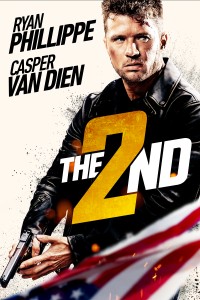 Release:
5 november 2020

Director:
Brian Skiba


Cast:
Ryan Phillippe (Shooter, The Lincoln Lawyer, Crash)
Casper Van Dien (Starship Troopers, The Pact)
Jack Griffo (Alexa & Katie)
Lexi Simonsen


Genre:
Action


Year: 2020





A Première TV Distribution Release
SYNOPSIS
Secret-service agent Vic Davis (Ryan Phillippe) is on his way to pick up his estranged son, Shawn (Jack Griffo), from his college campus when he finds himself in the middle of a high-stakes terrorist operation. The daughter of a   Supreme Court Justice, and his son's friend, is the target and this armed faction will stop at nothing to kidnap her and use her as leverage for a pending landmark legal case addressing the Second Amendment. Vic quickly realizes that there's no one coming to rescue them and must now use his entire set of skills to save her and his son from an incredibly dangerous and lethal situation.
REVIEWS
Bulletproofaction.com: The Die Hard game plan is a proven winner, but you still need the players to pull it off and The 2nd had two very capable leads.
Entertainingmovie.com: A political thriller meshed with frenetic action sequences, director Brian Skiba does a great job. Action fans will likely get a kick out of this one.
Theactionelite.com: The 2nd delivers the action goods with Ryan Philippe making for an effective action star and Casper Van Dien an entertaining antagonist making this a total blast.
Worldfilmgeek.com: The 2nd is a wild action ride that gives us a chance to see what Ryan Phillippe can do in the fight department and it's clear he has the skills.
DOWNLOADS
You need to be logged in to access this information.
.