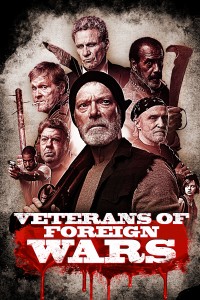 Release:
12 november 2020

Director:
Joe Begos


Cast:
Stephen Lang (Avatar, Don't Breathe, In The Blood)
William Sadler (When They See Us, The Shawshank Redemption)
Fred Williamson (From Dusk Till Dawn)
Sierra McCormick (Curb Your Enthusiasm)


Genre:
Action


Year: 2019





A Première TV Distribution Release
SYNOPSIS
The film follows Fred and his military buddies as they must defend their local VFW (Veterans of Foreign Wars) post – and an innocent teen – against a deranged drug dealer and his relentless army of punk mutants. These Vietnam vets have been to hell and back, but this will be the longest night of their lives.
REVIEWS
Filmthreat.com: Begos shows us what he's really made of by building a relentless pace so packed with tension we remain firmly at the edge of our seats, biting our fingernails until there's nothing left.
Austinchronicle.com: Splatter. Some are imitate it, mimicking the gritty, gory glories of 1980s exploitation cinema. Yet some are clearly born to it, relishing the way that blood and brains spread over a ring-marked sticky bar top. Count Joe Begos among the latter and VFW is his VHStastic nightmare, an unrelenting throwback to a gleefully caustic view of America's capacity for untrammeled nastiness.
Joblo.com: Joe Begos has assembled a killer cast of legit genre movie icons for his action-horror hybrid VFW. A take on John Carpenter's ASSAULT ON PRECINCT 13 (right down to the Carpenter-esque score), this old genre staple gets shaken up a bit in that, rather than have the bad guys totally outmatch our heroes, the good guys are more than able to hold their own – and then some.
Film.avclub.com: Drenched in grit, gore, and neon, VFW is an action throwback that hits all the right notes.
Thefilmstage.com: Joe Begos Delivers a Carnage-Filled Throwback.
Slashfilm.com: It's vile, slick with repugnance, and appropriately inhumane. A canon full of guts blasted straight into your face – the Fangoria way.
Nytimes.com: Characterized by blood-red lighting and bright-blue dialogue, the movie revels in a blasted urban setting that's as repugnant as most of its supporting characters. And that's before heads explode and faces are pounded to dog meat.
Hollywoodreporter.com" the pic succeeds on its own terms of being a nostalgic throwback to the days when such B-movies routinely opened on double and triple bills in urban grindhouses.
Blu-ray.com: Violence is the selling point of VFW, as the Fangoria production is drenched in blood, with weapons repeatedly destroying bodies. It is primarily out to raise hell, and it does well with frequent thrills, giving this unusual cast room to go wild.
Eyeforfilm.co.uk: it's brash, ballsy and a lot of fun to watch.
Theactionelite.com: Overall, VFW might well be the best action movie of the year so far and we've had some great ones; the cast are all at their best but it's the glorious orgy of violence that will keep you glued to your seat from beginning to end.
AWARDS
Brooklyn Horror Film Festival 2019 - Winner Best Actor
Brooklyn Horror Film Festival 2019 - Audience Award
DOWNLOADS
You need to be logged in to access this information.
.