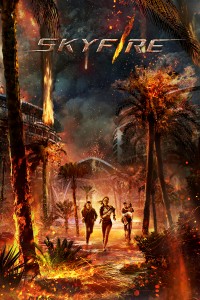 Release:
3 december 2020

Director:
Simon West (Con AIr, Lara Croft Tomb Raider, The Expendables 2)


Cast:
Jason Isaacs (The Infiltrator, Fury, The OA, Hotel Mumbai)
Hannah Quinlivan (Skyscraper)
Alice Rietveld
Xueqi Wang (Iron Man 3)


Genre:
Action


Year: 2019





A Première TV Distribution Release
SYNOPSIS
Tianhuo Island, paradisiac but famous for its active volcano, has been transformed into a thrill-seeking theme park by greedy businessman Jacj Harris (Jason Isaacs). Meng (Hannah Quinlivan), the daughter of the famous geologist Wentao Li (Xueqi Wang), has dedicated her life to develop a brilliant forecasting system that is predicting an imminent and deadly eruption. Despite Meng's warnings, authorities and businessmen refuse to close the park and evacuate civilians. Raining a storm of deadly fire-bombs and an endless tide of lava upon the island, Wentao Li must run against the clock to save his beloved daughter, the tourists and the rest of the island population from the apocalyptic chaos.
REVIEWS
Asianfilmstrike.com: Wang Xueqi is as commanding a presence as ever, and gives Sly Stallone some competition when it comes to being a believable action hero in his seventies, and Jason Isaacs makes a strong impression. There are a few genuinely nail-biting scenes: a jeep's mad dash through raining lava right to the edge of a cliff is a showstopper.
Asianfilmfans.com: This is Skyfire, a modern [English language] Chinese disaster movie – the end of product of what happens when you mix Jurassic World and Dante's Peak – and oh boy, are you in for a treat.
Fareastfilms.com: shows the swaggering expertise of Chinese cinema today.
Screenhkblog.wordpress.com: Simon West's workmanlike direction does deliver some goods here.
DOWNLOADS
You need to be logged in to access this information.
.