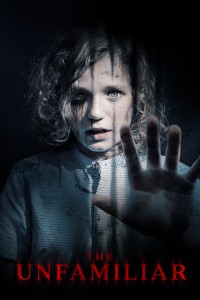 Release:
7 januari 2021

Director:
Henk Pretorius


Cast:
Jemima West (Kidnapping Freddy Heineken)
Christopher Dane
Rebecca Hanssen


Genre:
Horror


Year: 2020





A Première TV Distribution Release
SYNOPSIS
British Army Doctor, Elizabeth Cormack, returns from war to rekindle her relationship with her estranged family. Izzy notices numerous inexplicable activities in her house that her husband believes are due to her suffering from PTSD as a consequence of war. Izzy militantly pieces the daunting puzzle together to reveal a terrifying, invisible enemy that has infested her entire family. In a heroic attempt to save her family, she is pulled into a dark underworld in Hawaii to explore ancient mythology.
REVIEWS
Cinemasmack.com: Entertains for all of its ninety minute runtime. Horror fans should certainly give The Unfamiliar a shot as it doesn't disappoint.
Carlosdev.wordpress.com: I love those psychological horror films where the main character may or may not be going insane. This is one of those.
Darkeyesoflondon.blogspot.com: The Unfamiliar looks very good.
Gingernutsofhorror.com: builds an interesting mythology, has moments of tension, action, strong character development, is marketable, and has plenty other qualities.
Horrorfuel.com: Looks terrific, with splendid cinematography — including some crisp underwater sequences. Well made.
Thegrumpofhorror.wordpress.com: With good performances and a couple of good surprising developments in the story, I did enjoy the film.
Scariesthings.com: A clever take on what would at first glace feel like a conventional ghost story / psychological horror tale. It ends up spinning things in a way that is surprisingly satisfying and ends up being exactly as the title suggests: Unfamiliar.
DOWNLOADS
You need to be logged in to access this information.
.