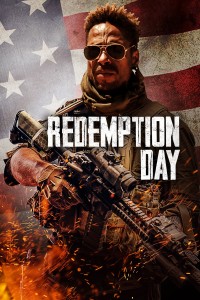 Release:
11 maart 2021

Director:
Hicham Hajji


Cast:
Gary Dourdan (CSI, Alien Resurrection, Perfect Stranger)
Serinda Swan (Tron)
Andy Garcia (The Godfather, The Untouchables, Geostorm)
Ernie Hudson (Ghostbusters, L.A.'s Finest)


Genre:
Action


Year: 2020





A Première TV Distribution Release
SYNOPSIS
After being awarded the Medal of Honor for his bravery during a firefight against ISIS, U.S. Marine Captain Brad Paxton (Gary Dourdan) is suffering from the long-term effects of being in a war zone. In the care of his loving wife, Kate (Serinda Swan), Brad is trying to adjust to civilian life. When Kate, a renowned archeologist, is given a once-in-a-lifetime career opportunity in  Morocco, Brad urges her to follow it. When Kate arrives, she is captured by a terrorist group who demands a $10 million ransom for her return. Brad rushes to Morocco where the U.S. ambassador (Andy Garcia) has ceased negotiating Kate's release after the deal jeopardizes the United Nations' talks for future oil rights in the region. As the unusual circumstances of Kate's abduction are revealed, Brad is forced to use his military skills in a daring and deadly operation to find the men responsible and save the woman he loves.
REVIEWS
Blu-ray.com: Dourdan is a fine tough guy.

Bulletproofaction.com: How many times can I call Gary Dourdan a badass in my review? Who knows, but he's definitely a badass.

Dansmoviereport.blogspot.com/: a blast of energy and angst, worthy of a re-watch, and to own, rating a strong 8 out of 10.

Worldfilmgeek.com: Redemption Day is not only Gary Dourdan's ticket to be a future action hero, but one who is truly human with a politically charged script by Hicham Hajji. A good way to start 2021!
DOWNLOADS
You need to be logged in to access this information.
.