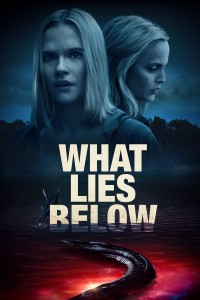 Release:
22 april 2021

Director:
Braden R. Duemmler


Cast:
Mena Suvari (American Beauty)
Ema Horvath
Trey Tucker (The Outpost)


Year: 2020





A Première TV Distribution Release
SYNOPSIS
Liberty, a socially awkward sixteen-year-old, returns from two months at camp to a blindsided introduction of her mother's hunky young fiance, John Smith, whose charm, intelligence, and beauty paint the picture of a man too perfect to be human. Is he something else…?
REVIEWS
RogerEbert.com: Memorably creepy, has some swing-for-the-fences chutzpah.
Cinemarvellous.com: Surprisingly good for a B-movie, and it has some interesting ideas up its sleeve.
Culturecrypt.com: I definitely dig the grim ending.
Heavenofhorror.com: If you like indie movies that mix genres in all the best ways, then do check out What Lies Below.
Horrorfuel.com: What Lies Below serves up enough head-scratching moments (in the good way) and unexpected reveals to make it a recommended watch.
Horrorbuzz.com: What mainly makes What Lies Below succeed is the masterful building of suspense.
Ukfilmreview.co.uk: The creep factor in What Lies Below holds steady.
Rabbit-reviews.com: A fun movie.
Screenrant.com: effectively delivers slow, creepy, atmospheric dread and some sleek thrills.
Voicesfromthebalcony.com: An enjoyable creature feature.
Worldfilmgeek.com: Some great performances by Ema Horvath, Trey Tucker, and Mena Suvari help drive the film and that ending is unforgettable.
DOWNLOADS
You need to be logged in to access this information.
.