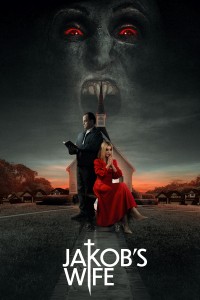 Release:
12 augustus 2021

Director:
Travis Stevens


Cast:
Larry Fessenden (I Sell the Dead, Hellbenders)
Barbara Crampton (You're Next, Re-Animator)
Bonnie Aarons (The Nun, Silver Linings Playbook)


Genre:
Horror


Year: 2021





A Première TV Distribution Release
SYNOPSIS
Anne is in her late 50s and feels like her life and marriage have beenshrinking over the past thirty years. Through a chance encounter with astranger, she discovers a new sense of power and an appetite to live biggerand bolder than before. However, these changes come with a toll on hermarriage and a heavy body count.
REVIEWS
Joblo.com: a blood-soaked good time that gives Crampton the role of her career.
Filmthreat.com: That uniqueness is in every frame. Believe me when I tell you that Jakob's Wife is worth seeing.
Latimes.com: This is where having actors the caliber of Crampton and Fessenden pays off.
Nightmarishconjurings.com: A vital and shocking modern vampire story, pulses with joy and the electricity that flows through the human heart.
Rogersmovienation.com: Has gloriously icky makeup, over-the-top geysers of blood goofiness, down-and-dirty vampire trash talk laughs.
Rogerebert.com: Fessenden and Crampton play it real. Very well-conceived and well-executed.
Aisleseat.com: Jakob's Wife is freaky, gory, darkly funny, and, best of all, substantive. I very much want to see it again. This is easily my favorite movie from the 2021 SXSW Film Festival.
Austinchronicle.com: By turns funny, grisly, tragic and insightful, Jakob's Wife carries the smartness of years. Never has the idea that vampire and vampire hunter are caught in a codependent relationship been more elegantly and humorously framed.
Culturecrypt.com: Barbara Crampton and Larry Fessenden are fantastic in the film.
Filmschoolrejects.com: A fantastically worthy dynamic. You can't possibly go wrong with a movie that lets Crampton tell a little girl to fuck off.
Slantmagazine.com: Well acted, sturdily constructed, and psychologically astute.
Moviesandmania.com: It's funny, it's bloody and it will warm your bleeding heart.
Backseatmafia.com: Jakob's Wife is up there with her [Barbara Crampton] best performances.
Badfeelingmag.com: a gory and crowd-pleasing horror-comedy that feels perfectly-suited for these times.
Fathersonholygore.com: Awesome genre work. A horrifying, darkly hilarious tale.
Horrorobsessive.com: Fresh, entertaining, and unexpectedly substantive.
Dreadcentral.com: an homage to classic vampire stories and a tribute to Barbara Crampton.
DOWNLOADS
You need to be logged in to access this information.
.