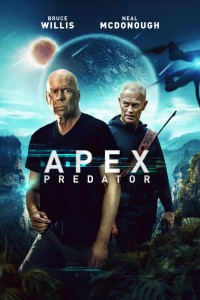 Release:
22 november 2021

Director:
Edward Drake


Cast:
Bruce Willis (Die Hard, Red, Sixth Sense, Split)
Neal McDonough (Minority Report, The 100)
Lochlyn Munro (Riverdale, White Chicks)


Genre:
Action


Year: 2021





A Première TV Distribution Release
SYNOPSIS
Based on Richard Connell's "The Most Dangerous Game".Five elite Hunters pay to hunt a human on a deserted island. But each Hunter begins to fall as the Prey fightsback with mind-games, traps, and a determination to survive they have never witnessed before.
REVIEWS
Ashleymanning.com: It's a classic story of rich people hunting humans for sport. The new spin on it is bizarre and over the top in the best way possible.
Fictionhorizon.com: McDonough, as the twisted, blood-thirsty killer who gets his prey every time, is excellent in bringing out the cold-blooded killer.
Theactionelite.com: Neal McDonough proving what a class act he is on screen.
DOWNLOADS
You need to be logged in to access this information.
.