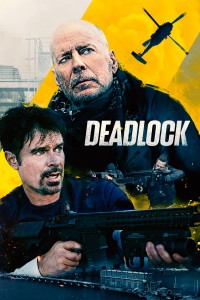 Release:
6 januari 2022

Director:
Jared Cohn


Cast:
Bruce Willis (Die Hard, Red, Sixth Sense, Split)
Patrick Muldoon (The Crime Boss, Starship Troopers)
Matthew Marsden (Black Hawk Down)


Genre:
Action


Year: 2021





A Première TV Distribution Release
SYNOPSIS
Mack is a former soldier who, after the war, moved to a town with a hydroelectric powerplant, where nearly everybody works. Life is peaceful for him there, until a gang of mercenaries led by Ron (Bruce Willis) storm the plant and take everybody hostage, including a group of children on a school trip. Now Mack is in a race against the clock and must use his military training to defeat Ron before he puts floods the town, killing thousands. Along the way he discovers Ron's motive, which unravels a greater secret Mack's town is hiding.
REVIEWS
Commonsensemedia.org: Muldoon plays scruffy hero Mack with a blast of energy and a cheeky attitude.
Voicesfromthebalcony.com: Willis taking on the Rickman role from his most iconic movie. The action scenes are plentiful.
Cinemagzine.nl: 'Deadlock' kijkt makkelijk weg, het is een degelijk gemaakte B-film.
DOWNLOADS
You need to be logged in to access this information.
.