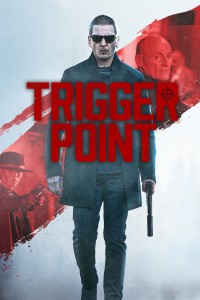 Release:
9 december 2021

Director:
Brad Turner


Cast:
Barry Pepper (True Grit, Maze Runner 2 and 3)
Laura Vandervoort (Jigsaw, The Handmaid's Tale)
Colm Feore (Astronaut, House of Cards)
Eve Harlow (The 100)


Year: 2021





A Première TV Distribution Release
SYNOPSIS
Nicolas Shaw, a disgraced former U.S. secret agent who suffered memory loss at the hand of captors, is dragged back into the darkest shadows of the spy world when he is enlisted by his former partner to help find a missing colleague. Nicolas' skills will be put to the ultimate test as the two men try to unravel the mystery behind her disappearance before it's too late. But to uncover the truth, Nicolas will need to remember the past. Doing so might also be the key to clearing his own name.
REVIEWS
Bulletproofaction.com: I had a fantastic time watching Trigger Point.

Entertainingmovie.com: An efficient assassin "gone to ground" thriller.

Jbspins.com: Surprisingly stylish.

Lylesmoviefiles.com: a solid action thriller.

Punchdrunkcritics.com: Enjoy watching Nicolas Shaw deliver that sweet, sweet justice down the barrel of his silenced hand cannon. Brad Turner and Barry Pepper Prove a Familiar Story Can Still Be Exhilarating.

Reelfilm.com: compelling action sequences.

Socialnews.xyz: Tough and surprisingly to some degree trendy.
DOWNLOADS
You need to be logged in to access this information.
.