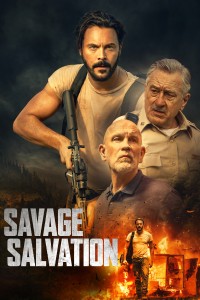 Release:
14 september 2023

Regie:
Randall Emmett


Cast:
Robert De Niro (The War with Grandpa, The Irishman, Joker)
John Malkovich (Ava, Deepwater Horizon, Bird Box)
Jack Huston (The Irishman, Fargo (series), Ben-hur)
Dale Dickey (Hell or High Water, Winter's Bone)


Genre:
Thriller


Jaar: 2021





A Première TV Distribution Release
SYNOPSIS
Wanneer de aanstaande bruid van Shelby bezwijkt aan een overdosis oxycodon begint hij, gewapend met een spijkerpistool, aan een  moordpartij naar de top van de drugsketen. Aan Sheriff Church (Robert De Niro) de taak om hem te stoppen.

Onder een laagje spectaculaire actie verbergt Savage Salvation van regisseur-producer Randall Emmett een schrijnende aanklacht tegen de plaag die Amerika al decennia in een ijzeren wurggreep houdt.
REVIEWS
Filmhype.com: Very respectable: the two protagonists in love are played by Willa Fitzgerald and by a feral and effective Jack Huston, while the two think about the tragic love story with final revenge. heavyweights of American cinema: the Oscar winner Robert De Niro (here in the role of the rough sheriff Church) and an unprecedented John Malkovich.
TheGuardian.com: Deliciously camp from De Niro and Malkovich.
DOWNLOADS
Je moet ingelogd zijn om deze informatie te bekijken.
.