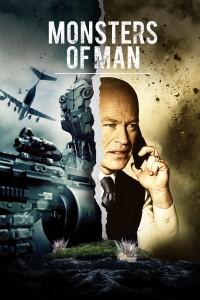 Release:
25 augustus 2021

Director:
Mark Toia


Cast:
Neal McDonough (Minority Report, The 100)
Brett Tutor
Jose Rosete (The Walking Dead)
Jessica Blackmore


Genre:
Action


Year: 2020





A Première TV Distribution Release
SYNOPSIS
A robotics company vying to win a lucrative military contract team up with a corrupt CIA agent to conduct an illegal live field test. They deploy four weaponised prototype robots into a suspected drug manufacturing camp in the Golden Triangle, assuming they'd be killing drug runners that no one would miss. Six doctors on a humanitarian mission witness the brutal slaughter and become prime targets.
REVIEWS
Bulletproofaction.com: Monsters of Man could easily attract the same kind of cult following that takes an unknown film which went direct to video or streaming and make it the type of film that has three or four sequels.
Explosiveaction.com: This film was mental! Utterly relentless in its execution, these robots are the true modern Terminators.
Horrordna.com: a fast, good-looking film that's a modern Terminator amped up to eleven.
Theactionelite.com: Totally badass and the hard R action make it worth a watch.
Voicesfromthebalcony.com: The robots are heavily armed, but they seem to be quite happy to crush skulls, stomp on people and generally get up close and personal with their victims.
DOWNLOADS
You need to be logged in to access this information.
.