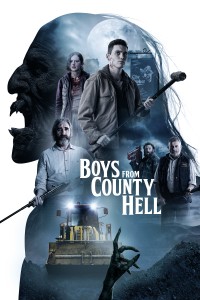 Release:
26 mei 2022

Director:
Chris Baugh


Cast:
Jack Rowan (Peaky Blinders)
Nigel O'Neill (Bad Day for the Cut)
Louisa Harland (Derry Girls)
Michael Hough (Chapelwaite)


Year: 2020





A Première TV Distribution Release
SYNOPSIS
Welcome to Six Mile Hill, a sleepy Irish backwater whose only claim to fame is the somewhat dubious local legend that Bram Stoker once spent a night in the local pub. It's home to Eugene Moffat, a young man who fills most of his days drinking pints with his friends and pranking tourists who come to visit the gravesite of Abhartach, a legendary Irish vampire some believe to have inspired Dracula. 
When a personal tragedy forces Eugene to go and work for his gruff, no-nonsense father he finds himself on the site of a controversial new road development that threatens to destroy the town's livelihood. 
But strange events unfold when Eugene and the crew tear down a famous cairn believed to be the final resting place of Abhartach and they soon come under attack from a sinister force that has infected one of their workmates. 
As the night closes in The Boys must fight for survival while discovering the true horror of a myth that hits much closer to home than any of them realise...
REVIEWS
Bloody-disgusting.com: Springs to life when Baugh goes all-in on the horror elements. Ihe film does leave you thirsting for more vampiric slaughter.
Bloody-flicks.co.uk: Boys from County Hell is an unconventional vampire film with the humour of a Shaun of the Dead plus plenty of gore. Highly recommended.
Jbspins.com: a pretty wild ride.
TheGuardian.com: a bloody good laugh.
Ukfilmreview.co.uk: The charm and familiarity among the ensemble are undoubtedly the reasons the film works as well as it does.
Jordyreviewsit.com: A big crowd-pleaser. It's witty and emotional (at time), while being a hell of a fun ride.
Dailydead.com: a lot of fun and one that you will definitely want to check out.
Llivingsnoqualmie.com: The characters are quite funny, even if not always believable. Complete with carnage and heart-stopping moments, this film will probably start you out asking, "what on earth did we pay for" but leave you grinning and refreshed.
Letterboxd.com: Wickedly fun Irish horror movie.
Scarynerd.com: Succeeds with a brilliant tone, a different spin on vampires and successful comedy throughout.
DOWNLOADS
You need to be logged in to access this information.
.