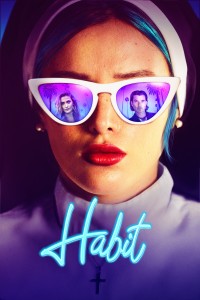 Release:
14 juli 2022

Director:
Janell Shirtcliff


Cast:
Bella Thorne (Scream, The Duff)
Andreja Pejic (The Girl in the Spider's Web)
Gavin Rossdale (Constantine)


Year: 2021





A Première TV Distribution Release
SYNOPSIS
When a street smart party-girl with a Jesus fetish (Bella Thorne) gets mixed up in a violent drug deal, she finds a possible way out by masquerading as a nun with her friends in order to scrape together enough money to pay the criminals off.
REVIEWS
Vocal.media: Thorne is the perfect canvas for the transgressive humor of Habit.
Joshatthemovies.com: A premise bursting with possibilities ... There is certainly style in Habit.
Ukfilmreview.co.uk: Habit plays like a film made by people who really liked David Lynch's Wild at Heart, Tony Scott's True Romance, and everything John Waters ever made.
DOWNLOADS
You need to be logged in to access this information.
.