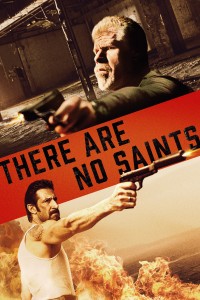 Release:
9 juni 2022

Director:
Alfonso Pineda Ulloa


Cast:
Ron Perlman (Hellboy, Drive, Fantastic Beasts and Where to Find Them)
Brian Cox (Churchill, Succession)
Tim Roth (Reservoir Dogs, The Hateful Eight)
Paz Vega (Rambo Last Blood, Kill the Messenger)
Neal McDonough (Minority Report, The 100)
Jose Maria Yazpik


Year: 2021





A Première TV Distribution Release
SYNOPSIS
A man nicknamed "The Jesuit", is imprisoned for a crime he didn't commit. When his wife is murdered and his son kidnapped and taken to Mexico, he devices an elaborate and dangerous plan to rescue his son and avenge the murder.
REVIEWS
Blu-ray.com: There Are No Saints is fixated on ugliness, which is a Schrader specialty, and he creates a particularly hostile world.
Eyeforfilm.co.uk: Not for the faint-heated.
Battleroyalewithcheese.com: A vintage cast of hard men, such as Tim Roth, Ron Perlman and Neal McDonough. Overall worth a watch if you want to see men, being MEN.
Highonfilms.com: It is the action that truly excels. The brutality of its execution and the resultant gore enhances the gritty vibe of the movie.
Jbspins.com: Recommended for fans of payback.
Nightsandweekends.com: With its heavy themes and sometimes gruesome violence, There Are No Saints isn't the typical brainless action movie. But this story of a man fighting to save his son will definitely give you a lot to think about long after it's over.
Slantmagazine.com: A Messy, Intoxicating Shot of B-Movie Adrenaline.
DOWNLOADS
You need to be logged in to access this information.
.