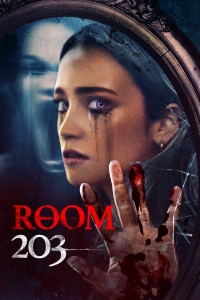 Release:
4 augustus 2022

Director:
Ben Jagger


Genre:
Horror


Year: 2022





A Première TV Distribution Release
SYNOPSIS
After lifelong friends KIM and IZZY move into ROOM 203, a quirky apartment with a creepy medieval stained glass window, Kim slowly becomes convinced that their new home may be haunted. With help from her new boyfriend IAN, Kim investigates the tortured history of the apartment, discovering a string of disappearances of former residents, a murder mystery from half a century ago, and an ancient curse that threatens to possess Izzy and kill Kim.
REVIEWS
Aiptcomics.com: Adaptation of J-Horror novel brings tension & scares. Accomplishes exactly what it needs to.
Bandsaboutmovies.com: Jagger invests the film with a brooding, eerie atmosphere, though, serving up some solid visuals and suspenseful set pieces.
Battleroyalewithcheese.com: an original adaptation which firmly sets the scene.
Dennisschwartzreviews.com: It's indie film smart. The production values are solid. The acting is on the money.
Fearsmag.com: Skillfully scripted and features some excellent visuals.
Filmcarnage.com: Builds a sinister, creeping darkness, and holds a great tension in its chilling moments.
Highonfilms.com: A gripping tale that ebbs and flows between being a teenage drama and a thrilling horror movie.
Reelreviews.com: gets a lot of its intensity from the atmosphere it creates as something is still alive within the walls!
Scariesthings.com: A solid new entry in the apartment horror sub-genre.
Searchmytrash.com: A very cool piece of slowburn haunted house type horror that really has all the mystery and all the scares in all the right places.
Vsmoviepodcast.com: Room 203 is a highly enjoyable, effective horror/thriller.
DOWNLOADS
You need to be logged in to access this information.
.