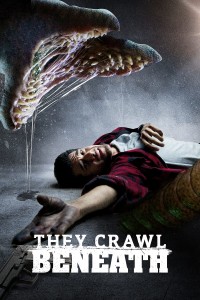 Release:
27 oktober 2022

Director:
Dale Fabrigar


Cast:
Michael Paré (The Philadelphia Experiment, The Lincoln Lawyer, The Virgin Suicides)
Joseph Almani
Karlee Eldridge (Ballers)


Genre:
Horror


Year: 2022





A Première TV Distribution Release
SYNOPSIS
Danny is a young cop working on his Uncle Bill'sclassic vintage car on a secluded ranch when a major earthquake hits. Uncle Bill is crushed, and Danny becomes trapped under the car, creating a claustrophobic nightmare. The situation intensifies when something horrifying emerges out of the cracks in the ground that leaves Danny fighting for his life.
REVIEWS
Elementsofmadness.com: takes a swing for the fences.
Flickattack.com: The practical worms look terrifying.Horrorfuel.com: An emotional, character-driven call back to the environmentally conscious fright flicks of the sinister '70s.
Jbspins.com: The practical, slimy effects are great.
Reviewsanddunn.info: a decent homage to the fifties-style creature feature.
Scifihistory.net: their gaping teeth-filled maws - what matter most - are the stuff of nightmares. Fangs. Bug spit. Screeches. The whole nine yards.
Searchmytrash.com: a character-driven, claustrophobic story that does have more to offer than just monster action, and a very solid ensemble cast, aided by a subtle directorial effort, bring this to life quite beautifully, making it pretty good genre entertainment.
Voicesfromthebalcony.com: A good creature feature with nasty-looking monsters
DOWNLOADS
You need to be logged in to access this information.
.