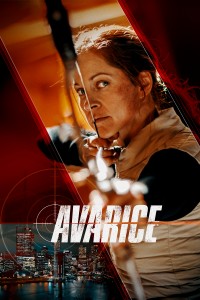 Release:
8 december 2022

Director:
John V. Soto


Cast:
Gillian Alexy (The Americans, Outsiders)
Luke Ford (The Mummy: Tomb of the Dragon Emperor)
Ryan Panizza (Home and Away)


Year: 2022





A Première TV Distribution Release
SYNOPSIS
When Kate, her husband Ash, and their daughter Sara take a much-needed holiday, plans go awry when their vacation home is invaded by experienced criminals. With Kate and Sara held hostage Ash must transfer the funds from a recent investment deal or face the consequences. What these criminals don't know, is that Kate is an olympic level archer, and she never leaves home without her weapon. Our hero refuses to go down without a fight. And is prepared to protect her family....by any means necessary.
REVIEWS
Voicesfromthebalcony.com: Does deliver on the action as Kate has to use her fists as well as her bow to get the job done.
Filmink.com.au: Smartly put together and entertaining, Avarice is a rock-solid homegrown thriller.
DOWNLOADS
You need to be logged in to access this information.
.