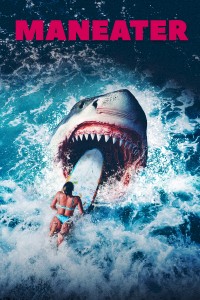 Release:
26 september 2022

Director:
Justin Lee


Cast:
Nicky Whelan (Hall Pass, Neighbours)
Shane West (Here Alone, Gotham)
Jeff Fahey (Lost, Alita Battle Angel)
Trace Adkins (The Lincoln Lawyer)


Genre:
Thriller


Year: 2022





A Première TV Distribution Release
SYNOPSIS
While on vacation in an island paradise, a group of friends are stalked by an unrelenting large shark after an accident leaves them stranded.
REVIEWS
Voicesfromthebalcony.com: keeps you amused.
Aisleseat.com: Shows the carnage in stomach-churning detail.
Austinchronicle.com: There are enough shark movie enthusiasts out there that Maneater should find its audience.
Nycmovieguru.com: Maneater does have some very gory scenes.
Moviefreak.com: a flesh-eating nightmare.
DOWNLOADS
You need to be logged in to access this information.
.