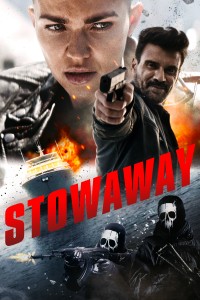 Release:
8 juni 2023

Director:
Declan Whitebloom


Cast:
Ruby Rose (Orange is the New Black, John Wick 2)
Frank Grillo (Avengers Endgame, Boss Level)
Patrick Schwarzenegger (Zijn vader)


Year: 2022





A Première TV Distribution Release
SYNOPSIS
A troubled young woman inherits a yacht from her estranged father but it turns out to be a ruse for his ex-business partners to kidnap her and steal her new yacht in search of a hidden fortune.
REVIEWS
Thereviewgeek.com: Enjoyably if you're looking for a movie to watch with your mates on a Friday night.
DVD-Fever.co.uk: Fun to watch.
Jbspins.com: Frank Grillo always elevates everything he appears in.Screenrant.com: Ruby Rose is convincing as a young woman trying to escape her confinement on the yacht. Just like the majority of her life, many hurdles have been stacked against her, but she finds a way to use her street smarts to escape a dangerous situation.
Viewsonfilm.com: Stowaway bleeds atmospherics as it fashions itself as a nippy, compact thriller.
DOWNLOADS
You need to be logged in to access this information.
.