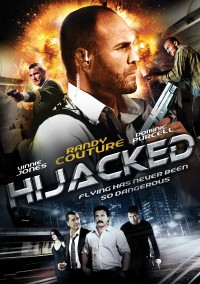 Release:
11 december 2012

Director:
Brandon Nutt


Cast:
Vinnie Jones (Snatch, Hijacked, X-Men: The Last Stand)
Dominic Purcell (Killer Elite, Prison Break)
Randy Couture (The Expendables 1 & 2)
Tiffany Dupont
Gina Philips


Genre:
Action


Year: 2012





A Première TV Distribution Release
SYNOPSIS
Special Agent Ross's (Randy Couture) plans to reconcile with his ex is ruined when she boards a private jet that is targeted by hijackers working for the same crime lord he is chasing. With no time to inform his team, Ross sneaks on the aircraft before take-off and risks it all to save the love of his life. An adrenaline fueled action packed film that puts the fear back in flying!
REVIEWS
Blu-raydefinition.com: Professionally made ... The actors do a good job.
Dansmoviereport.blogspot.nl: Flows at a lightning pace, never a wasted moment.
Hkfilmnews.blogspot.nl: a fair amount of suspense and some pretty good action here and there.
Mediamikes.com: well-planned and entertains throughout.
Moviemavericks.com: This is a slam-bang, moderately violent air adventure with an intriguing angle.
DOWNLOADS
You need to be logged in to access this information.
.