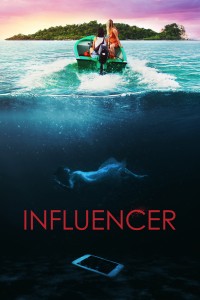 Release:
25 mei 2023

Director:
Kurtis David Harder (Spiral)


Cast:
Emily Tennant (Juno, Jennifer's Body, The Sisterhood of the Traveling Pants)
Cassandra Naud (Snowpiercer)
Sara Canning (The Vampire Diaries)


Genre:
Thriller


Year: 2022





A Première TV Distribution Release
SYNOPSIS
Popular social media influencer Madison, is having a lonely and uneventful trip in Thailand despite what she tells her followers on Instagram. While reflecting on her boyfriend canceling the trip, she meets CW, a fearless and enigmatic traveler who offers to take her to some of the most Instagram-worthy locations. Together they share authentic meals and drinks with locals, discussing the differences between Madison's online presence and CW's lack of one. After showing Madison all of the amazing sights, things take a different turn when CW brings her to a surprise location - a deserted island that is completely off the grid.
REVIEWS
Cinedump.com: What a ride! Influencer is special, and if I didn't know any better, I'd say Adrian Lyne was involved. Takes all of the beats from your favorite 90s thriller and executes them with ease!
Joshatthemovies.com: I was surprised by many of the film's twists and turns. Just when I thought I had it all figured out, there would be another titanic shift in the structure.
Wickedhorror.com: This is a brutal and incisive look at social media addiction but the scariest thing about Influencer might just be how it reflects our own online obsession back at us.
Nightmarishconjurings.com: Cassandra Naud gives a hypnotic performance and, combined with the rest of the cast and unexpected turns, makes Influencer an entertaining cautionary tale.
Thehollywoodnews.com: This is a zippy sun-soaked thriller that rewards the viewer with its spellbinding blend of glitz, glamour, and mystery.
Filmfreakcentral.net: The cast is exceptional. And there are plots galore: crosses and double-crosses; heists and murders most foul; and at the end of all that, one of those little movie smiles where an antagonist recognizes the brilliance of a mortal enemy and steels themselves for another round of chicanery. Influencers is strong stuff and a calling card.
Projectedfigures.com: a deft merger of George Sluizer's The Vanishing and Danny Boyle's The Beach, Influencer follows the anxiety, emptiness and increasing isolation of online celebrity.
DOWNLOADS
You need to be logged in to access this information.
.