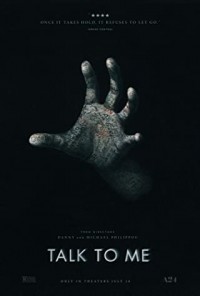 Release:
TBA Q4 2023

Director:
Danny Philippou
Michael Philippou


Cast:
Sophie Wilde
Joe Bird
Alexandra Jensen
Miranda Otto (Lord of the Rings, War of the Worlds)


Genre:
Horror


Year: 2023

A Première TV Distribution Release
SYNOPSIS
When a group of friends discover how to conjure spirits using an embalmed hand, they become hooked on the new thrill, until one of them goes too far and opens the door to the spirit world forcing them to choose who to trust: the dead or the living.
REVIEWS
97% FRESH op Rotten Tomatoes!
Discussingfilm.net: Surely destined for cult classic status. The best two modern comparisons of Talk to Me would be Hereditary and It Follows. 5*!
Highonfilms.com: The background score and the fantastic performance of Bird are scary enough to make your toes curl in fear.
Lamplightreview.com: Opening with an impressive tracking shot through a crowded house party that ends in a shocking act of violence, and maintaining a sense of dread and unease throughout its brisk 95-minute running time, culminating in a breathless third act that will leave pulses racing and viewers at home scrambling for the nearest light switch.
DOWNLOADS
You need to be logged in to access this information.
.