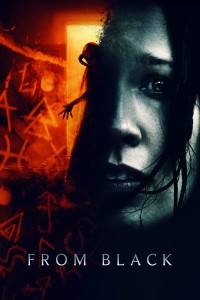 Release:
10 augustus 2023

Director:
Thomas Marchese


Cast:
Anna Camp (Pitch Perfect, The Help)
John Ales
Jennifer Lafleur (Nope)


Genre:
Horror


Year: 2023





A Première TV Distribution Release
SYNOPSIS
A recovering drug addict, desperate for closure and saddled by crushing guilt after the disappearance of her young son, is presented with a bizarre offer to learn the truth about what happened and set things right - if she is willing to pay a terrifying price. How dark is she willing to go for a chance at redemption?
REVIEWS
Foritismansnumber.blogspot.com: I highly recommend From Black.
48hills.org (Dennis Harvey from Variety): Marchese treats his story with a non-hyperbolic, stylistically economical, psychologically realist sobriety that is compelling in itself.
Aiptcomics.com: Camp who is fantastic as a woman who has suffered immensely and is basically a shell of a person.
Tinakakadelis.com: From Black asks the audience if there's anything more terrifying than simply not knowing, and forces them to live in that uncertainty.
Nofspodcast.com: Relies on a non-linear structure, establishes a sense of dread and a curiosity for what is to come.
Punchdrunkcritics.com: For fans of atmospheric, slower burn horror with an emphasis on demons and Satanic rites, From Black is definitely one worth searching out.
Dmtalkies.com: An Interesting Horror Film About Grief.
DOWNLOADS
You need to be logged in to access this information.
.