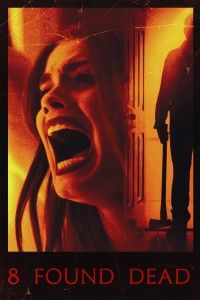 Release:
12 oktober 2023

Director:
Travis Greene


Cast:
Nancy Linehan Charles (Minority Report)
Jenny Tran
Tim Simek
Alisha Soper (Lethal Weapon)


Year: 2023





A Première TV Distribution Release
SYNOPSIS
Two couples drive to a secluded house in the desert for a weekend getaway, each with their own baggage, expectations, and secrets. Upon their arrival, they're met by two strangers, claiming to have rented the house as well. What starts out as a simple misunderstanding ends in an all-night bloodbath.
REVIEWS
HorrorBuzz.com: A savagely entertaining movie.
Baintrain08.wixsite.com: 8 Found Dead isn't just one of the best films that I've seen this year, it's one of the best horror films that I've seen ever.
Filmthreat.com: Absolutely, delectably insane, 8 Found Dead is a gripping and aberrant horror getaway.
Horrorfuel.com: Horror films about short-term rental properties are becoming a proper subgenre. 8 Found Dead is a solid, highly entertaining entry into that group.
AWARDS
Screamfest LA 2022: Winner Best Picture and Best Director
DOWNLOADS
You need to be logged in to access this information.
.