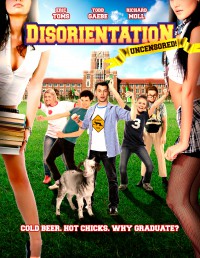 Release:
1 oktober 2013

Director:
Russell Whaley


Cast:
Todd Gaebe (Beyond the Mat)
Richard Moll (Night Court)
Eric Toms


Genre:
Comedy


Year: 2012





A Première TV Distribution Release
SYNOPSIS
Finn is an underachieving slacker who simple refuses to graduate from college. And why should he, when college is a never-ending stream of sex, drugs, and rock 'n' roll? With the school year starting, Finn is assigned a very special dorm roommate. Toby, is a 15 year-old genius who has skipped over high school to enter college as a freshman. Nothing could prepare Toby for the endless partying and sexual escapades he is forced to endure by Finn. Completely traumatized, Toby packs his bags and goes home, but his father, sends him back in order to face his biggest fear—Finn.
REVIEWS
Thecriticalcritics.com: Its core audience will like it. It's certainly better than most big-budget raunch films out there today. The movie is endearing, sure, but it's also terrifically disgusting and hilarious.
Roguecinema.com: there are numerous moments where the insanity of the production steps out and inspires some truly laugh-out-loud moments ... I know that I certainly had a good time with DisOrientation
Sonic-cinema.com: The film is consistently, ridiculously funny.
DOWNLOADS
You need to be logged in to access this information.
.