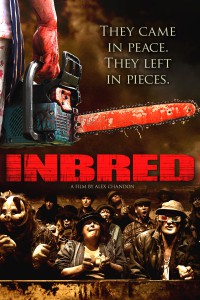 Release:
2 oktober 2012

Director:
Alex Chandon


Cast:
Jo Hartley
Seamus O'Neill (War Horse)
James Doherty (In the Loop)


Year: 2011





A Première TV Distribution Release
Collectie: 132 van 224
SYNOPSIS
Four young urban offenders and their care workers embark on a community service weekend in the strange, remote Yorkshire village of Mortlake, which prides on keeping itself to itself. Visiting the local pub, 'The Dirty Hole' which serves home-made (and suspiciously hairy) pork scratchings, they quickly realise they've made the wrong holiday choice. A minor incident with some local inbred youths rapidly escalates into a bloodsoaked, deliriously warped nightmare for all involved and its just a case of who will survive, and what will be left of them?
REVIEWS
Twitchfilm.com: Awfully mean-spirited and often sickeningly gory ... The Amsterdam audiences (known for often being a raucous bunch of gorehounds themselves) awarded the film a 7.6 out of 10.
Wildsidecinema.com: a lovely black and absurd sense of humor ... a wet dream for a gorehound ... sheer fun!
Lovehorror.co.uk: At this year's FrightFest the audience absolutely loved it.
Dreadcentral.com: an amusing, deliciously gory, occasionally shocking and decidedly vicious little film.
DOWNLOADS
You need to be logged in to access this information.
.