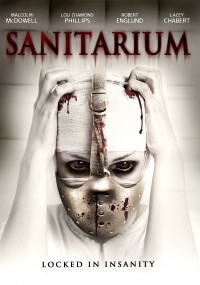 Release:
1 februari 2014

Director:
Bryan Ortiz


Cast:
Robert Englund (A Nightmare on Elm Street)
Lacey Chabert (Mean Girls)
Malcolm McDowell (The Artist, A Clockwork Orange, Halloween)
Lou Diamond Phillips (La Bamba, Longmire)
John Glover (Smallville)
Chris Mulkey (Captain Phillips)


Year: 2013





A Première TV Distribution Release
Collectie: 167 van 208
SYNOPSIS
SANITARIUM is an original motion picture that consists of half-hour stories based on particular patients of a mental institution. Each episode begins with Dr. Stenson, the primary physician at the Sanitarium, commenting on the recent arrival of a new patient. As Dr. Stenson speaks, the individual's story begins. With elements from 'The Twilight Zone,' 'Alfred Hitchcock Presents,' 'Creep Show,' and 'Tales from the Crypt,' episodes explore the different narratives of the insane patients - tales which led to their crazed states of minds. These accounts reflect hallucinations, imaginary voices, and alter realities, and include themes of the paranormal, the unexplainable, and the mystical. The motion picture feature thrillers, dramas, horror, and mystery.
REVIEWS
Miami.festivalgenius.com: Superlatively shot, this creepy 'Tales of the Crypt' style chiller reminds of us how the mind is sometimes humanity's most powerful weapon. And beware the progressive shift in the ill, from the sane to the insane...darkness descends.
Horrosgoryreviews.blogspot.nl: an excellent performance from John Glover.
Fangoria.com: The writing is smart and polished, ensuring the film's conceit never slides into gimmickry. There is confidence in the execution and verse in the performances. It has the gait and mien, in other words, of a work produced through creative synergy and synchronicity, not strife and pissing contest one-upmanship. McDowell's Dr. Stenson would probably see such harmonious equilibrium as bad for business, but the even keel in the telling is precisely what allows SANITARIUM's batty stories to succeed so well.
DOWNLOADS
You need to be logged in to access this information.
.