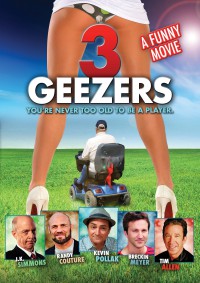 Release:
1 januari 2014

Director:
Michelle Schumacher


Cast:
Scott Caan (Hawaii 5-0)
Tim Allen (The Santa Clause)
Breckin Meyer (Ghosts of Girlfriends Past, Herbie Fully Loaded)
J.K. Simmons (Spider-Man, Juno)
Randy Couture (The Expendables 1 & 2)


Genre:
Comedy


Year: 2013





A Première TV Distribution Release
SYNOPSIS
J. Kimball is an actor who really likes to get 'into' his roles. He wants to know how his characters behave, so he can give his best performance. Kimball's latest role is as an 'old man,' which is a problem as Kimball does not like old people. His wife convinces (that is, withholds sex until he agrees to do what she says) Kimball to go to The Coconuts Convalescent Home and actually see what it's like to live as an old man, and that may change his mind about old people. Let's just say, Kimball gets more than he bargained for! In the end, Kimball learns that old men are horny, politically incorrect, and really love giving their friends a hard time. So, really, not any different than young men!
REVIEWS
Thestopbutton.com: The humor's offensive retirement home potty humor (and it's often very funny).
DOWNLOADS
You need to be logged in to access this information.
.