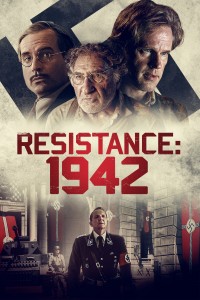 Release:
28 april 2021

Regie:
Matthew Hill
Landon Johnson


Cast:
Cary Elwes (The Princess Bride, Saw)
Jason Patric (In the Valley of Elah, Narc, The Prince)
Mira Furlan (Space Command)
Judd Hirsch (Uncut Gems, A Beautiful Mind)


Jaar: 2021





A Première TV Distribution Release
Collectie: 2 van 3
SYNOPSIS
1942. In bezet Frankrijk probeert een groepje dissidenten er de moed in te houden met verboden uitzendingen via hun clandestien radionetwerk. Met de hete adem van de Gestapo in hun nek, moeten ze de uitgestoken hand van een Zwitsers bankier aanvaarden. Maar is zijn landgoed een veilige haven of een valstrik?
REVIEWS
TheGuardian.com: As written here, the ambiguous Andre – who channels Nazi money – is a much more interesting character; a kind of Oskar Schindler lite. Patric's inscrutable performance recedes intriguingly.
Intoscreens.com: Directors Matthew Hill & Landon Johnson, along with writer Jonah Hirsch weave an inspirational story of how the kindness of a perfect stranger can save two families from a cruel world filled with ignorance. With solid performances from the entire cast, this film works as a reminder on how you should never give in to tyranny and always go down swinging.
DOWNLOADS
Je moet ingelogd zijn om deze informatie te bekijken.
.