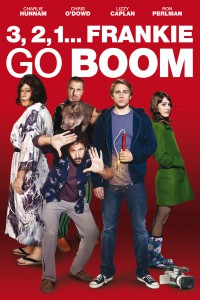 Release:
2 juli 2013

Regie:
Jordan Roberts


Cast:
Charlie Hunnam (Pacific Rim, Children of Men, Sons of Anarchy)
Chris O'Dowd (Bridesmaids, The Sapphires)
Ron Perlman (Hellboy, Drive, Fantastic Beasts and Where to Find Them)
Lizzy Caplan (Hot Tub Time Machine, Cloverfield)
Whitney Cummings (Made of Honor)
Chris Noth (Sex and the City, The Good Wife)


Genre:
Komedie


Jaar: 2012





A Première TV Distribution Release
SYNOPSIS
Al van kindsbeen af wordt Frank gemarteld, vernederd en in verlegenheid gebracht door zijn broer Bruce, een obsessieve allesfilmer. Nu de volwassen Bruce eindelijk van de drugs af is en het rechte pad bewandelt, hoopt Frank finaal op beterschap voor zijn dysfunctionele familie. Tot zijn toevallige onenightstand met een getroebleerde jonge vrouw verkeerd afloopt, en Bruce, als vanouds, klaarstaat om alles voor het nageslacht te tapen. Wanneer de beschamende net-geen-sekstape tot overmaat van ramp op het internet belandt, moet Frank de hulp inroepen van Phil, de voormalige celgenoot van Bruce. Alleen gaat Phil voortaan door het leven als Phyllis...
REVIEWS
Variety: Writer-director Jordan Roberts earns a good number of laughs, and even some extended guffaws, with his crass romance about sex, lies and digital video. There's a clever design beneath the seemingly random chaos, as the pic gets an inordinate amount of comic mileage from the running joke of Bruce's borderline-sociopathic self-absorption.
Movies.nytimes.com: Exuberantly written and directed by Jordan Roberts, '3,2,1... Frankie Go Boom' is a vibrantly vulgar comedy that never hangs around to admire its own cleverness. With wham-bam timing and unisex jokes, Mr. Roberts races us through a jam-packed tale of erectile reluctance, brotherly betrayal, Internet disaster and accidental romance.
Aintitcool.com: Frankie Go Boom is an absurdist comedy with heart, a film that is hard not to like. Everybody is just so earnest in it and the relationship between Hunnam and Caplan is genuinely sweet, so when the shit really does get weird you're kind of in for the long haul. Strong writing and direction from Jordan Roberts, a charming love story, some truly hilarious moments, a crazed Lynchian universe and an overall tone of likability really made this one of the more enjoyable films of SXSW. Keep your eyes peeled for it.
Joblo.com: there's so much weird shit in 3, 2, 1...FRANKIE GO BOOM, that I was chuckling from start to finish and laughing out loud many times, usually followed by a 'Oh, hell no...' .... it's a ridiculously crazy good time and one I look forward to seeing again.
Smellslikescreenspirit.com: 3,2,1... Frankie Go Boom cleverly mocks Hollywood and the notion that anyone with an HD camcorder is a director. As if the promise of a film starring Chris O'Dowd and Lizzy Caplan is not reason enough to watch it, there is an added bonus of witnessing Ron Perlman portray a transgender woman named Phyllis. Sure, the Phyllis character feels a bit cartoonish (and borderline offensive), but how often do you get to see Hellboy donning full drag?
Slantmagazine.com: The performances, though requiring little subtlety, make the movie, and Frankie Go Boom's plot works best when it continually provides wilder and wilder situations for the energetic cast.
BigGayPictureShow.com: the actors are great and there are a lot of funny scenes.
Conevmovies.com: Though deliciously rude and crude, '3, 2, 1 ... Frankie Go Boom' possesses a surprisingly sweet heart. Jordan Roberts' screwball romp never stoops to the misogyny and other infantilisms rampant in so many Peter Pan comedies.
Cinemabeach.com: It is the ensemble nature of the cast that makes 3,2,1... Frankie Go Boom really great.
MediaMikes.com: Overall great casting and smart script lead up to this fun little film. If you are looking for a new definition to dysfunctional family, then be sure to check out '3,2,1...Frankie Go Boom'. Be sure to stay until the screen goes black for more Perlman/Noth! Totally worth it!
DOWNLOADS
Je moet ingelogd zijn om deze informatie te bekijken.
.